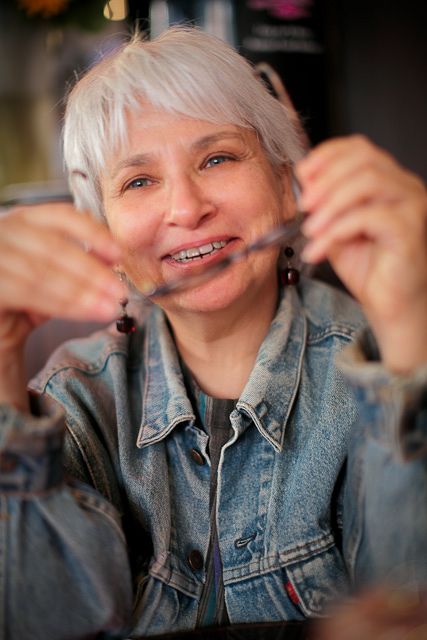 ABOUT and WORKSHOP NEWS- CUBA 2017!
BIOGRAPHICAL INFORMATION
Janis Lewin is a photographer and teacher who lives in New York City. She has a degree in Art History from UC Berkeley, and a passion for photography. While at Berkeley she learned photography techniques, and began to explore street photography and portraiture. She continued her education at the International Center of Photography in New York, and worked with Inge Morath privately.
In 1990 Janis traveled to Cuba to begin a long-term project. Over the next decade her photography delved deeper into life on that island, exploring subjects like religion, transvestites, rural life, street life, women's lives, Harley-Davidson motorcycles and the rafters of 1994, among others. Her Cuba work has been exhibited and published widely, including in the New York Times, Aperture, Essence magazine among others.
New York City offers infinite possibilities, with the subway providing a particularly rich source of images. Family and event photography, portraits and street work, are all visually enriching opportunities for photography.
On trips to Ecuador and Peru, Janis engaged with locals and began her own projects. There will be more work done in these countries and others. A workshop in Peru may be offered in 2017.
WORKSHOP NEWS:
Cuba Photo Tour: January 6-17. See Workshop Page.
CUBA WORKSHOPS:
Cuba Photo Tour: Eastern Cuba 2017. See Workshop Page. Private trips with Janis Lewin as a guide can also be arranged.
Edit Your Photos and Learn About Photography!
Hire Janis Lewin to assist you with your many photos. Learn how to select the better photos, how to do basic color and contrast corrections. If you are interested, Janis will research articles and find exhibitions and books that suit your personal interests.
************************************
Through her popular workshops, Janis has discovered a real love for teaching. She incorporates aspects of the history of photography in her independent classes and classes at The Creative Center in Manhattan. Janis brings her art history background to photography students at every level. Her classes, workshops and work with individuals are tailored to meet the specific needs of the participants. Her first international workshop in Cuba in January, 2013, was particularly productive due to her knowledge of Cuba, her many friends, and her interest and experience in photographing several aspects of life on the island. Workshops in Cuba offer this unusual access, from over a decade of work and the development of lifelong friendships.
"I traveled with Janis to Cuba in January of 2013. She was a terrific guide. She has a vast knowledge of Cuban art and photography and she maintains relationships with exciting and important contemporary Cuban artists and photographers, all of whom were excited to see her and were generous of their time with us. She has great interpersonal skills, successfully dealing with each individual's personal interests, skill levels and needs. She is flexible, knowing when to stick to the plan and when to let things happen organically. And she is a lot of fun."
RC, NYC